GLENWOOD - Dorothy Westover is well aware of the impression some people have of her community.
"I've been here 52 years, and it's always been that when you mention you're from Glenwood, people kind of shrink back," said Westover, now 77 and still living in the tidy, three-bedroom home on Mississippi Avenue where she moved with her family in 1954.
Westover's two daughters attended the old Glenwood grammar school before they started taking the bus to Eugene for junior high. It was there that they faced a barrage of verbal abuse dished out by their classmates from the city.
"It was not easy for them," Westover recalled. "They were called `Glenwood grease' and `Glenwood scum.' It was terrible.
"People have never had a good opinion of Glenwood, and I'm not sure why. I love it here."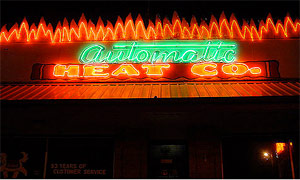 Admit it. You've got your own ideas about Glenwood. It's that unsightly little pass-through between the University of Oregon campus and downtown Springfield that's suddenly become a hot spot due to a proposed city redevelopment plan.
The mostly industrial, mostly unincorporated area has been called an urban orphan, a no-man's land. You might have heard about the Glenwood shuffle, how Eugene once controlled planning there, and now it's Springfield's responsibility.
In a way, "stuck in the middle" accurately describes the people who live and work in Glenwood. They have Springfield phone numbers, but their mailing addresses say Eugene.
You might know it as the place where you drop off your trash - the metro area's main garbage transfer station is in Glenwood - pick up a moving van or load up on mulch or gravel.
What you may not know is that just south of Glenwood's scruffy main drag - Franklin Boulevard - lies a tight-knit residential community. It's filled with hundreds of people who thumb their noses at the norm, and who don't care what you think of them or their neighborhood.
"The perception is that it's `Felony Flats,' " Glenwood homeowner and carpenter Dave Carvo said. "People don't want to go off the beaten path and see what's back here. And we like it that way."
Outsiders who venture into Glenwood's residential center might be surprised to find that the trees are tall there, and the place has a country quietness that's rare in the metro area.
Another pleasant aspect: Pretty much everybody knows everybody else. Many people moved to the district in the first place because they already had friends living there.
"It's a true neighborhood," Carvo said. "Most people (elsewhere) know one or two of their neighbors, and that's it. It's not like that here."
The people of Glenwood are quick to point out that the community has its share of challenges (a smattering of "drug houses" and absentee landlords who neglect their properties). But they say there's no place they'd rather be.
"A lot of people have asked me why I don't leave this neighborhood," said social worker Lola Heinl, who moved there from Eugene in 1993. "I stay because all my friends are here. It's not without its problems, but overall, it's a great place to live."
Sewers vs. septic tanks
Glenwood's future is a lively topic in Springfield, which has adopted a 20-year urban-renewal plan for the community. Glenwood is located within Springfield's portion of the metro area's urban-growth boundary, and city officials hope over the next two decades to extend municipal services to the district and bring it into the city limits.
Many Glenwood residents are watching with a tad of anxiety and skepticism as Springfield city fathers take the first steps in what could be a sweeping renovation of the stretch of Glenwood that lies along the Willamette River, north of Franklin. City officials are reviewing two competing redevelopment plans to demolish several dozen acres of businesses and a mobile home park along the riverfront and replace them with a glittering mixed-use community.
Homeowners in Glenwood's residential heart say they like their neighborhood much as it is, and whatever is done on the riverfront, they don't want their taxes going up or their neighborly relationships disrupted.
"It worries me quite a bit," longtime resident Westover said. "I just hope they let us be. I think most people here are very satisfied with the way it is."
The main service Springfield officials want to extend into Glenwood in the near future is sewer, city Community Development Manager John Tamulonis said. Most homes and businesses in the district are on septic tanks.
Curbs, gutters and sidewalks could eventually be built in the area, but that spendy work is not something that's being considered yet. Typically, when cities add those sorts of amenities, they bill the affected neighborhood for the work - something that rarely goes down well with those residents.
"We expect Glenwood to become part of the city," Tamulonis said. "They need to have full services, and they don't right now."
Officials understand that lower-income people in Glenwood might have trouble paying for city services. The Springfield Economic Development Agency, which oversees urban-renewal efforts in the district, would try to help anyone placed in a financial bind as a result of any infrastructure upgrades, Tamulonis said.
In comparison with the rest of Lane County, Glenwood is a financially poor area. The median annual household income in the 1,300-person community is about $23,000, census statistics show. The median number for the county is about $37,000.
Paying for municipal services is just one objection voiced by those opposed to annexation. Carvo said some community members simply aren't interested in officially joining Springfield, while others are worried their more rural lifestyle will be threatened if they become part of a city.
Tamulonis said Springfield officials, who in 1998 took over planning management of Glenwood from Eugene, don't want to force annexation on anyone. But he points out that it will be less expensive for Glenwood residents to hook up to the public sewer system as a group, than as individuals.
Springfield's growing interest in Glenwood has prompted the enclave's residents to start paying close attention to municipal affairs.
Carvo and a couple of his neighbors serve on the city's Glenwood Renewal Advisory Committee, which is charged with reviewing plans for the community's future.
For the first time, people living in Glenwood's residential core are creating their own formal neighborhood association. Neighbors say they want to present a united front when they deal with the powers that be.
"I have no doubt that someday we will annex," said Steve Ramseur, chairman of the group, known as the Glenwood Society for Livable Communities. "We want to be part of some positive change here, so we might as well try to shape it in a way that keeps our lifestyle intact for as long as possible. I just hope that Glenwood always stays Glenwood, because it is its own community. "
The Glenwood lifestyle, to Lexington Avenue resident Kevin Pridgen, includes keeping a goat and a sheep fenced behind his house, and raising bees for their honey.
"I don't know if I could do all this if I lived in a city," said Pridgen, a landscaper by trade. "Here, you do what you want and nobody bothers you about it. I'll be ready to move when that changes."
​